 Here is how to make some…
Super Scary Halloween LED-o-copters
So what is a LED-o-copter? Is a simple fun toy that you slingshot into the air, and then it swirls down spinning like a helicopter. The LEDs shine their light onto the wings and the result is almost like fireworks.
Now this is fun on any night, but in this case we will spice up the LED-o-copters with halloween decorations to turn them into flying scary ghosts, bats and pumpkins.
If you follow my recipe, you will need some specific materials, but if you cannot source them, feel free to improvise. I will provide some tips along the way.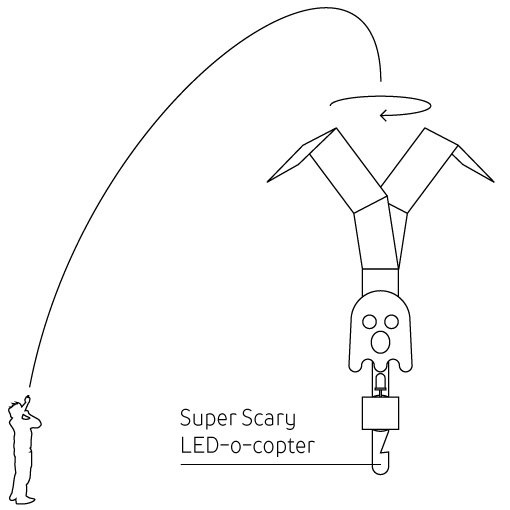 Make a LED-o-copter step by step
Materials
For one LED-o-copter and slingshot:
2 popsicle sticks
2 Button type batteries 3 volt (i.e. CR2032)
2 LEDs
1 strong rubber band
Some electrical tape
1 sheet of paper printed with decorations
1 lamination pouch
Some hot glue (sticks)
Tools
X-acto knife or similar
Scissors
Gluegun
Laminator machine
Ruler (optional)
Tea spoon (optional)
A note on lamination:
The purpose of laminating is to achieve sturdy wings. If you do not have a laminator machine, use a sturdy plastic material for the wings i.e. like the material you will find in blister packaging.
STEAM Skills and Science
Basic electric circuits
Creative expression
Detailed building skills